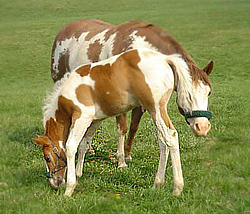 At Mill Creek Farm top notch care is the number one priority. Our horses are raised in the heart of the bluegrass country of Kentucky where some of the finest thoroughbred race horses in the world are produced. This gives us access to the world renowned veterinarians of the Rood and Riddle Equine Hospital along with top notch farriers and nutritionists.

We search out top quality hay and grain mixes specific to the needs of growing young horses. We closely monitor the growth of all foals to ensure proper development and avoid growth related problems that can effect their long term soundness. This vitamin and mineral rich feeding program is coupled with constant daily handling from the moment the foals stand and nurse.
The old saying goes "no hoof no horse" so all horses at Mill Creek Farm have their feet trimmed and closely examined by the farrier once a month. Hoof dressings are applied three times a week depending on the season and we feed a special supplement to encourage hoof growth if necessary.
All mares on the farm are wormed every 60 days and all foals are wormed every 30 days until one year of age when they go on the every 60 day program. All horses receive regular vaccines as prescribed by the attending veterinarian and the mares also receive numerous pre-foaling vaccines in order to ensure that the foals will start out life protected from the most common bugs.
Pasture care is also important which is why we will be having our fields analyzed annually by a pasture specialist to determine the need for any fertilizer, additional minerals and for weed control.
With all of this extraordinary care, you can be assured that a foal raised at Mill Creek Farm has had the best possible care from the time of it's birth until your purchase.